International Summer School Youth and Heritage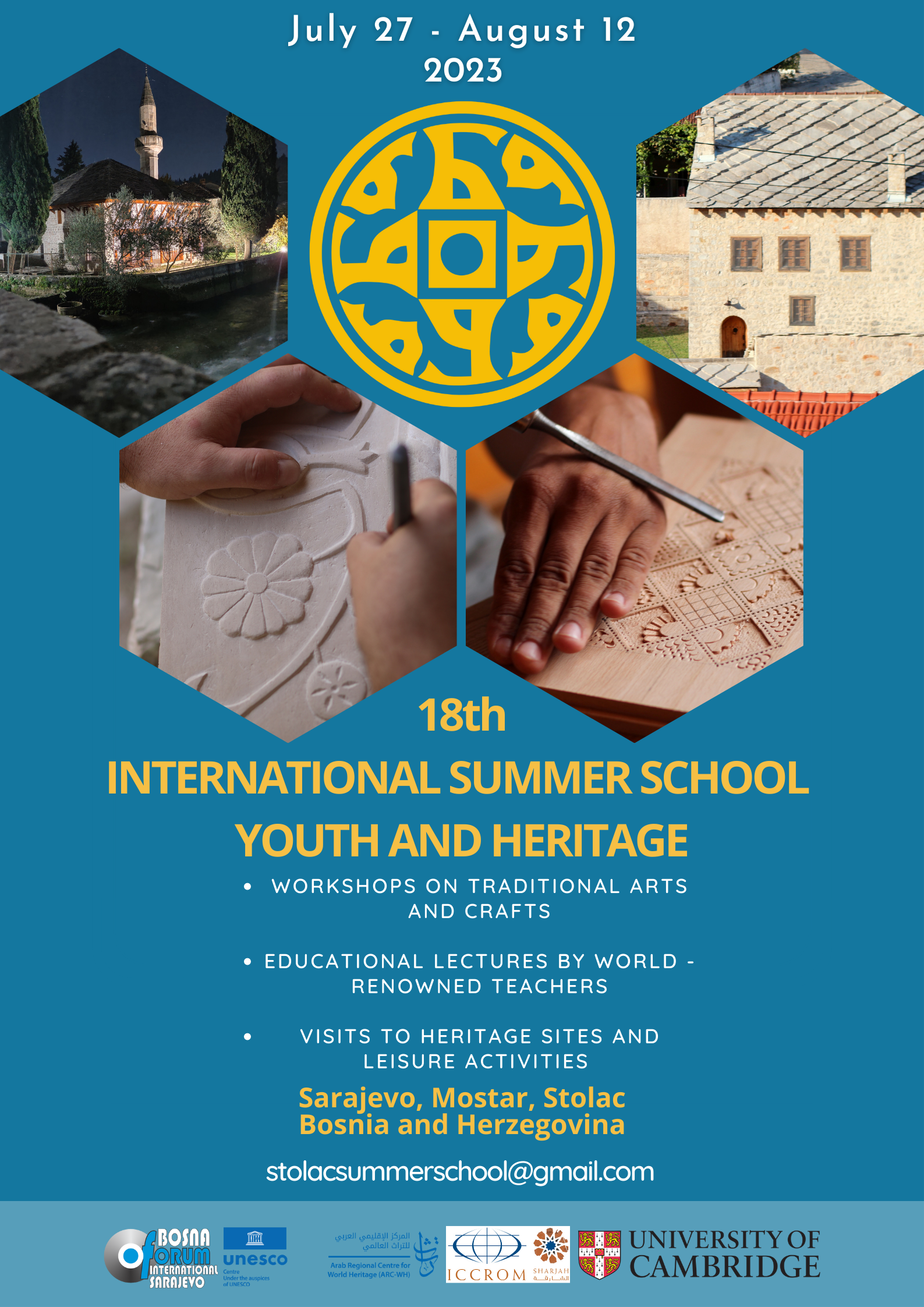 WHAT IS ISSYH?
The
International Summer School Youth and Heritage
has been designed as an advanced educational platform intended to complement university syllabi. The curriculum is a unique combination of practical and theoretical learning methods, performed in
Sarajevo, Mostar, and Stolac
, historic Bosnian cities which suffered extensive damage during the war of the early 1990s, and have been a focus of post-war heritage reconstruction and social recovery since the end of the war.
This environment provides students with personal experience of working and living in a context where heritage reconstruction is a factor of the necessarily long-term process of healing societal and cultural trauma.
Since its inception, the Summer School programme has thus focused on promoting understanding and the conservation of significant expressions of tangible and intangible cultural heritage within a post-traumatic context.
WHEN AND WHERE?
The 18th International Summer School Youth and Heritage will be organised between
July 27
and
August 12, 2023
in
Sarajevo, Mostar and Stolac
, Bosnia and Herzegovina. Introductory lectures will be held online between
June 22
and
24, 2023
.
ISSHY18 is organised in partnership with ICCROM Sharjah, the Arab Regional Centre for World Heritage (ARC-WH), and Cambridge Inter-Faith Programme - University of Cambridge.
WHO CAN APPLY?
The ISSYH hosts up to
30
young people aged
between 20 and 35
, young professionals or students, interested in cultural heritage, with good English language skills.
Those wishing to seek credits from their home institutions may opt for an
additional sum mative assignment
(a 2000-word essay) due two weeks after the ISSYH. Whilst we do not offer credits ourselves, we can write to your home institution to indicate that the ISSYH, at Level 1 (FHEQ 4) offers knowledge equivalent to 4 US credits, 7.5 ECTS or 15 FHEQ.
HOW TO APPLY?
The completed application form should be sent to stolacsummerschool@gmail.com, no later than
May 15, 2023
(23:59 UTC+1).
More information on the programme, workshops, fees, and other logistical details can be found in the Informational booklet.

FEES AND COSTS:
The International Forum Bosnia and the teachers who work on a pro bono basis have decided to exempt all accepted participants from paying tuition fees for the School itself. There are, however,
costs associated with participation
, namely to cover the provision of materials, meals, accommodation, transport, stationary, technical assistance, utilities, etc., which are essential for the program. For full costing, please contact
stolacsummerschool@gmail.com
.
Our sponsors provide a number of successful applicants with
grants
to cover partial or full costs of participation. The School Board considers requests for financial support depending on availability of these funds. The request for financial support for direct costs of participation, excluding transport to and from Bosnia and Herzegovina, should be included in the application.